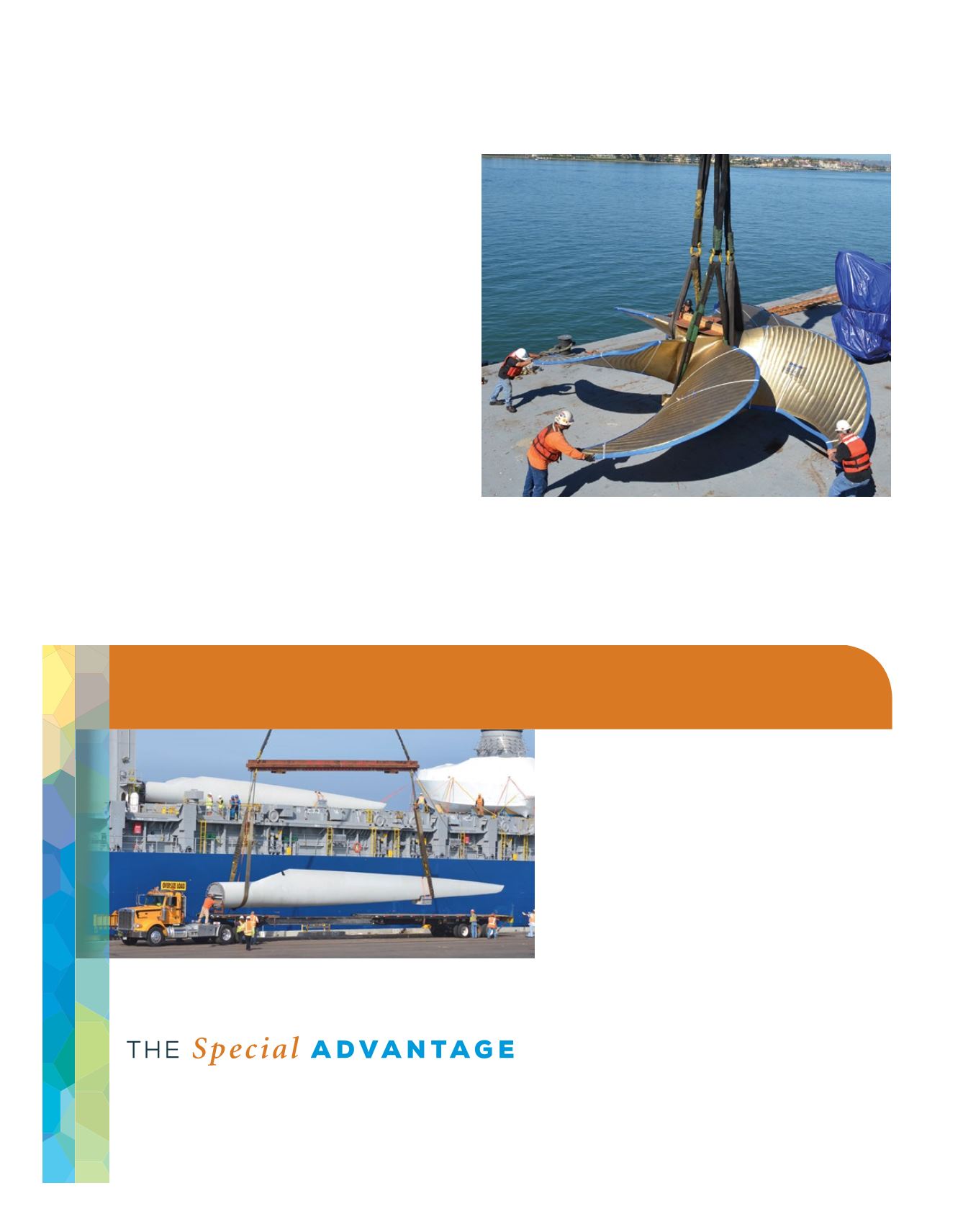 13
California.Think.Global
2017 California Export Guide
SOME SHIPPERS JUST CAN'T CONTAIN THEMSELVES
When it comes to specialty cargo such
as breakbulk, dry bulk, roll-on, roll-off
and refrigerated goods, the Port of
San Diego has special advantages
others just can't offer.
•
Two deep-water terminals
•
Abundant open, covered and
cold storage
•
Expertise in handling specialty cargo
•
Flexibility
Move your specialty cargo from ship
to ground to market much faster in
San Diego.
P O R T
o f
S A N D I E G O
|
p o r t o f s a n d i e g o . o r g
maritimeinfo@portofsandiego.org
619-686-6300
The Port of San Diego specializes in specialty cargo.
Take advantage of being different.
POSD_CalExportGuide:Layout 1 9/28/16 9:45 AM Page 1
T
he Port of San Diego serves as the nation's specialty cargo
gateway to Latin America, Asia and beyond.
Located in San Diego Bay, the Port of San Diego has a
natural deep-water harbor, easy access to regional free-
ways, and on-dock Class I rail service, making it ideal for cargo
shipping. San Diego is the fourth largest port in California, and
one of 17 commercial strategic ports utilized by the United
States military.
The port has two cargo terminals, the Tenth Avenue Ma-
rine Terminal (TAMT), a 96-acre facility in San Diego and the
National City Marine Terminal (NCMT), a 135-acre complex in
National City.
TAMT is the Port's omni-terminal, where refrigerated con-
tainers, break-bulk and bulk cargos are handled. TAMT also
has an on-dock cold storage facility, providing approximately
300,000-square feet of temperature-controlled storage and
cargo handling. TAMT features ample open space and flex-
ibility to efficiently handle non-containerized cargo with the
capability to handle breakbulk pieces in excess of 300 metric
tons. NCMT is the Port's "roll-on, roll-off" cargo terminal,
and is home to theWest Coast's most efficient auto processor,
Pasha Automotive Services. NCMT is located 10 miles from the
U.S.-Mexico border, and also provides on-dock rail and nearby
regional freeways.
Cargo received at the Port's two cargo terminals originates
from countries around the world. Export business includes soda
ash and mining-related materials originating fromTrona, Calif.,
and shipped to South America. Other exports include beer,
refrigerated perishables and other materials to South America;
American-made automobiles to Asia; and turbines to Asia.
More information about the Port of San Diego is available
online at
PortofSanDiego.org
.
Port of SanDiego:The Specialty CargoExperts