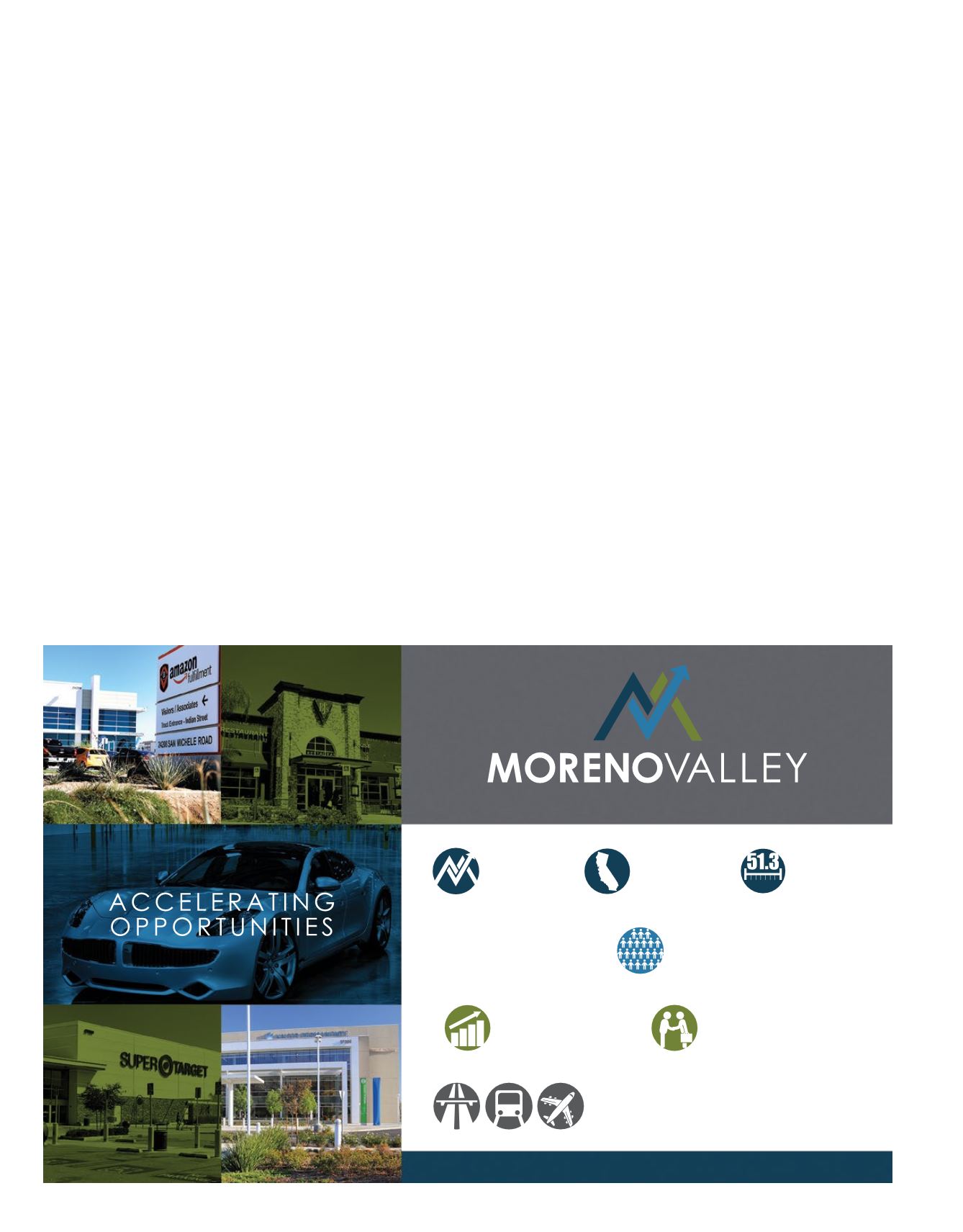 11
California.Think.Global
2017 California Export Guide
C A L I F O R N I A
951.413.3460
| www.morenovalleybusiness.com |
edteam@moval.org
square
MILES
largest city in
CALIFORNIA
21st
largest city in
Riverside County
2nd
Moreno Valley
Population 2016
207,675
20-mile
radius population
2,302,607
Inland Empire
ONE OF THE FASTEST GROWING REGIONS
IN THE US
Fortune 500
Home to numerous
AND INTERNATIONAL COMPANIES
METROLINK
SERVED
BY
CHARTER & CARGO FLIGHTS
FROM MARCH INLAND PORT AIRPORT
INTERNATIONAL FLIGHTS FROM ONTARIO AIRPORT
CALIFORNIA STATE ROUTE 60 | INTERSTATE 215
TRANSPORTATION
W
hat do international companies such as Skechers
USA, Karma Automotive, Deckers Outdoor, and Fisher
& Paykel have in common? They are all part of the
MorenoValley Foreign Trade Zone 244.
Foreign Trade Zone 244, located at the center of a key global
logistics hub that encompasses MorenoValley, California, offers
importers and exporters incentives and cost savings that help
them increase their profitability and competitiveness. Here are
some of the key benefits of foreign trade zones:
Deferral of Duties
Customs duties are paid only when and if merchandise is
transferred into U.S. Customs and Border Protection territory.
This benefit equates to a cash flow savings that allows compa-
nies to keep critical funds accessible for their operating needs
while the merchandise remains in the zone. There is no time
limit on how long merchandise can remain in a zone.
Reduction of Duties
With the permission of the Foreign Trade Zones (FTZ) Board,
users are allowed to elect a zone status on merchandise
admitted to the zone that determines the duty rate to be
applied to foreign merchandise if it is eventually entered into
U.S. commerce from the FTZ. This process allows users to elect
the lower duty rate of that applicable to either the foreign inputs
or the finished product manufactured in the zone. As a result,
companies receive the lesser rate.
Elimination of Duties
No duties are paid on merchandise exported from an FTZ.
Therefore, duty is eliminated on foreign merchandise admitted
to the zone, but eventually exported from the FTZ. Generally,
this applies to merchandise that is scrapped, wasted, destroyed
or consumed in a zone.
Elimination of Drawback
Eligible duties previously paid on exported merchandise
may be refunded through a process called drawback. The
drawback law has become increasingly complex and expen-
sive to administer. If the need for drawback is eliminated, it
allows these funds to remain in the operating capital of
the company.
continued on Page 24
Benefits of ForeignTrade Zone 244:
Located in the Heart of Southern California
By Mike Lee