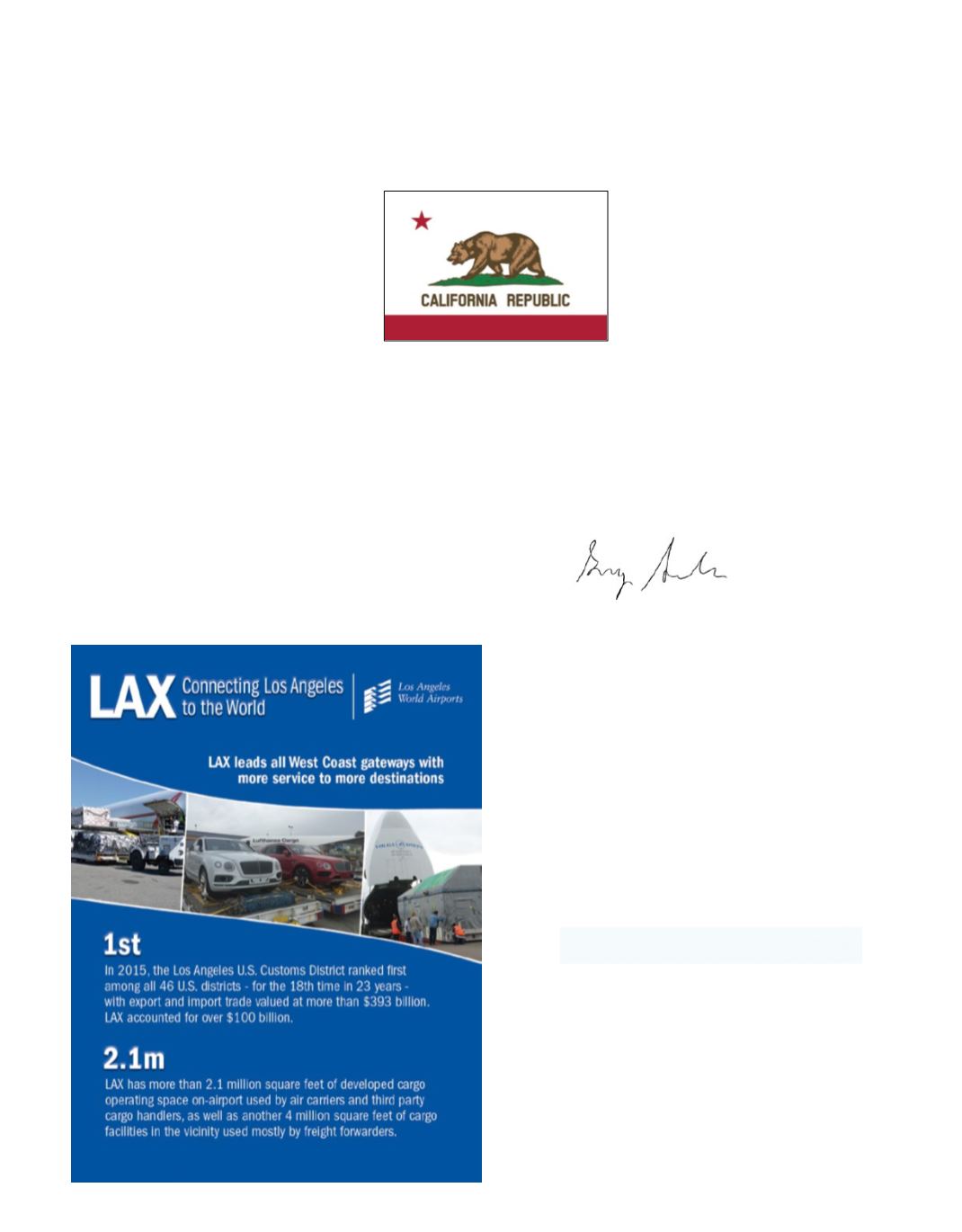 4
California.Think.Global
2017 California Export Guide
MetroConnect is a comprehensive
export assistance program helping
San Diego companies in their
plans to go global.
Learn more about 2017 applications at
MetroConnectSD.org
F
riends, Romans, International Traders:
International trade and investment are
critical components for California's eco-
nomic growth, and an important engine
for creating jobs. California is the fourth largest
economy in the world, and ranks second in the
United States for the exports of goods, with an
estimated value of $165 billion.
In 2015, more than 75,000 companies
exported from California, supporting over 775,000 jobs.
Withmore than 95 percent of the world's population and 80%
of the world's purchasing power outside of the United States, a
wide range of government agencies and private sector organiza-
tions are working to expand international trade and investment.
Moreover, the state of California has developed what it calls a
"holistic approach" to expanding international trade and invest-
ment. The state's plan includes securing California's economic
future and sustainable growth through economic-related agen-
cies and organizations, as well as education and tax policies.
California leads the nation in attracting Foreign Direct Invest-
ment (FDI). But continued growth in FDI and exporting will
require maximizing existing state, federal and private sector
resources, and implementing new trade- and investment-
related initiatives.
To that end, the California Export Guide
partnership between the Center for Interna-
tional Business Education and Research
(CIBER) at San Diego State University and
ThinkGlobal Inc., adds a new statewide inter-
national trade resource for exporters.
The California Export Guide, published in
English and Spanish, is a valuable informa-
tion resource for potential foreign investors in
California, new exporters, and for experienced
exporters looking to expand into newmarkets.
The articles and resources in the guide provide an excellent
starting point for exporters seeking expertise in everything from
shipping and logistics to trade finance and international law.
Please give us your feedback for future editions, and share
and link to the electronic editions, which are online at
California.Think.Global.
Sincerely,
Greg Sandler, Publisher
Letter from the Publisher
California's Export EnginePowersTrade& Investment
www.lawa.org